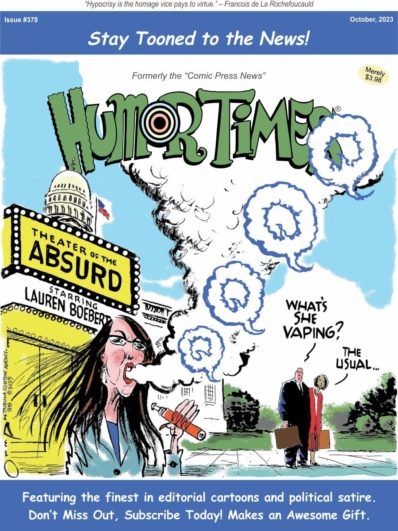 Magazine-Agent.com Sales Rank: 332
Website: Humor Times
Customer Service Number: (916) 758-8255
Humor Times
The Humor Times magazine is "The World's Funniest News Source" -- the fun way to stay informed! Since 1991, this hard-hitting political satire monthly has featured the very best in comically irreverent takes on the news, politics and media celebrities, via the finest in editorial cartoons, humor columns and satirical news articles.

In short, the Humor Times cuts through all the hype and helps you laugh, rather than cry, about the news!

Please note that while the publication leans left, we do make fun of both sides, with whoever's in power bearing the brunt of the lampooning. That's just how political satire works!

Each issue uses editorial cartoons by the best cartoonists in the world to review the news, organized by topic and strung together with a running narrative that tells a story -- the news in cartoons!

Hilarious humor columns are sprinkled in throughout, such as nationally popular political comedian Will Durst and Paul Lander's Award-Winning "Ripping the Headlines Today." We also add some non-political cartoons to help keep it light, like a dozen or more each of "Cornered" by Mike Baldwin, "Bizarro" by Dan Piraro, and more.

If you enjoy smart satire, funny pop culture references and making fun of current events, you'll love the Humor Times!